Finding proper clothing sizes for babies is a challenging task that all parents face. What can be difficult is understanding the size chart of a baby's clothing. Currently, there's still no universal baby clothing size guide that retailers and manufacturers are required to follow. It means that you can't really rely on uniformity in sizing across brands. Therefore, in this article, we will provide you some tips to help you understand more about the charts as well as getting the right clothing sizes for your baby.
Baby Clothing Size Chart: The Basics
Different brands have different size charts when it comes to baby clothing. However, most baby clothing is sized by age in months, then further defined by weight and height. Here are the most common size ranges that you will see on all of the charts:
Preemie: this is the smallest possible in the children's clothes size chart. The Preemie size range is designed for those tiny babies that are born prematurely with a weight from 1 – 3 pounds (small preemie) and 3 – 5 pounds (large preemie).
Newborn: for babies who have a weight up to 7 lbs, as well as a height of up to19 inches.
0-3 months: for the weight up to 12 lbs and height up to 23 inches.
3-6 months: up to 16 lbs & 25 inches.
6-9 months: max 20 lbs and the height up to 27 inches.
6-12 months: from 17 to 22 pounds of weight & 27-29 inches of height.
12-18 months: up to 27 pounds & 32 inches.
Some brands may also include 18 – 24 months size range in their chart
Toddler clothes sizing goes next, which may range from 2T- 6T.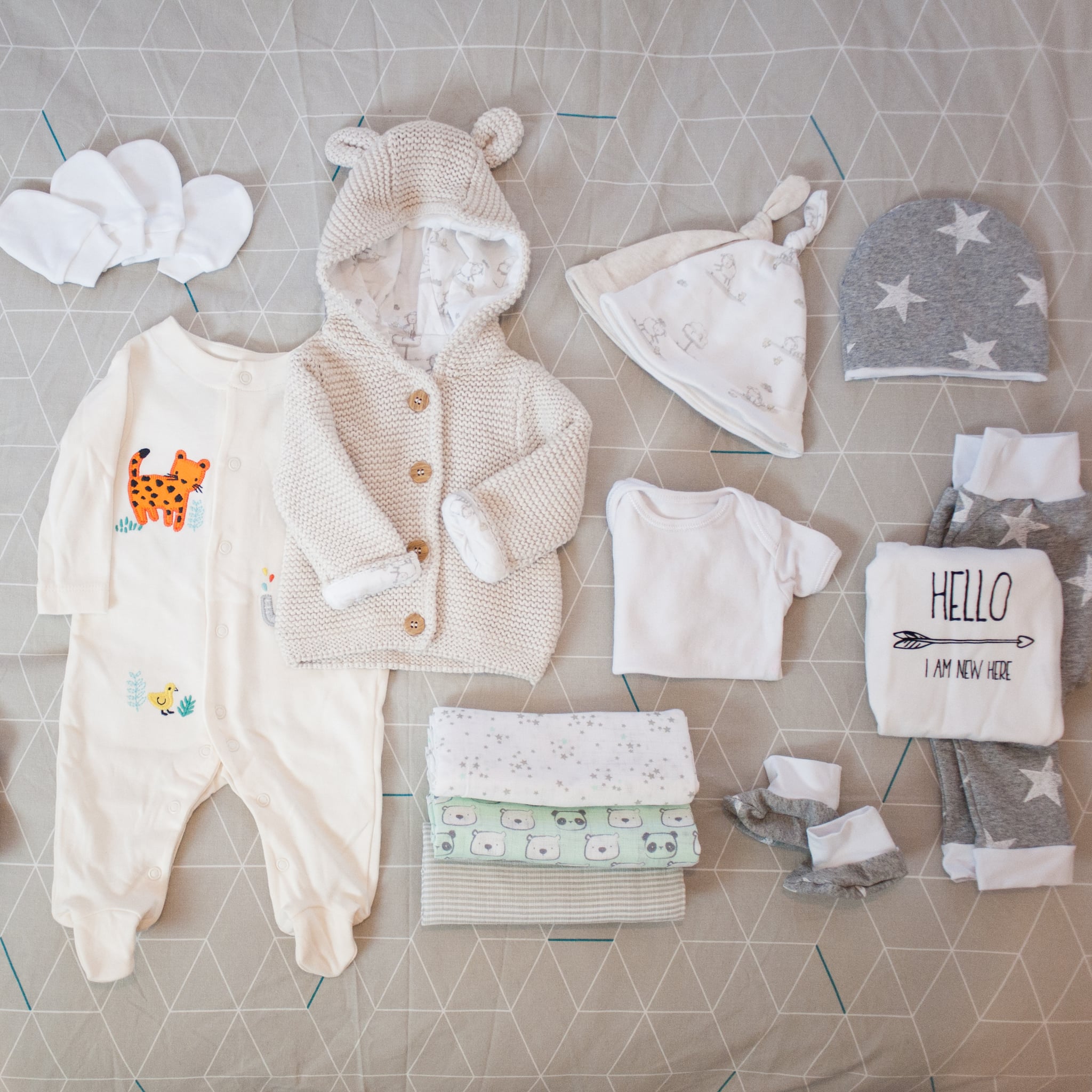 Infant Clothing Size
As mentioned, infant clothing sizes are normally categorized by months, weight, and height. But it's important to take your baby's weight and height into further consideration as the by-month sizing varies between brands. For example, some websites like BabyChorttle, 0 – 3 month size is specified for infants of  8 – 13 pounds and 20 – 24inches, but Carter's 0 – 3 month size range is for babies who weigh 8 – 12 pounds and height up to 21 – 24 inches.
Toddler Clothing Sizes
The "T" in sizes 2T to 6T is short for Toddler and the number before it is an approximation of the child's age. Theoretically, an average-sized two-year-old baby should fit into a 2T clothing. However, this size often overlaps with the 24 months size. It may be quite frustrating for parents who have a 2-year-old to tell these two sizes apart at first. We will explain this issue in the next part. But the important thing to know here is that the T sizes are a slimmer fit than the infant by-month sizes like 24 months.
It can even get more complicated as you will also see clothing sizes that don't include a 'T'. For instance, a 3 and a 3T are not the same size. The 'T' sizes tend to be several inches shorter, while also allowing more room for a diaper.
Like infant clothing, toddle clothing fits differently depending on the brand. For example, a Gymboree 2T is specified for toddlers who are 33-36 inches in height and weigh 30-32 pounds. Meanwhile, Osh Kosh lists a 2T for toddlers of 35-36 inches and 29-31 pounds. You might think that these 2 brands are offering the same fit, but many parents will tell you Gymboree toddler clothing seems to run quite big.

The Difference between 24 months and 2T
If you look closely, you will notice the differences between clothes labeled "24 Months" and those with the "2T" label. Basically, 24 months is for children that are still in the baby stages while 2T is designed for toddlers.

Children develop and grow at different rates. For example, a one-year-old can still be in diapers and be crawling, or they may be on their way to potty training and taking a few steps. As a result, each set of clothing is designed to fit different stages in a baby's development. Children who have just hit their second birthday or are approaching their third birthday should be able to wear the 2T clothing. But a 24-months child who still needs diapers might have to wear the 24 monthly clothing instead. Therefore, the easiest way to choose between these two kinds of clothes is basing on your child's behavior and current stage of development.
In short, here are some tips to help you identify these 2 sizes the next time you shop:
24 Months clothing has a rounder fit because they tend to leave more room for a diaper. You will also probably notice snaps between the legs for easy diaper access.
24 Months clothing tends to be a bit shorter in length, both in tops and bottoms. This design makes it easier for a baby to crawl without getting tangled up in the fabric.
2T clothes are usually slimmer and have longer sleeves and pant legs. This design tends to fit better for kiddos who can stand and walk upright as well as no longer wear a bulky diaper.
2T clothing typically does not have diaper snaps.
Style-wise, 2T tends to mimic adult clothing, just in a much smaller size. 24-months clothing on the other hand still retcons the babyish style
How To Get The Right Clothing Sizes For your Baby
Here are the most important things to note when shopping for your baby's wardrobe:
Always be guided by your baby's height and weight rather than by their age when choosing clothes.
Always choose clothing in one size ahead of your baby's actual age so you get extra wear out of them. For example, most six-month-old babies can wear clothes in sizes 9–12 months.
If you're buying for your unborn baby, it's best to buy 0-3 month size clothes, as newborn size can be outgrown very quickly.
It's important to never dress your little one in clothes that are much too big though, especially sleepwear. There's maybe a suffocation risk to your baby if you do so.
Once again, sizes do vary slightly from brand to brand. Make sure you always check the label or packaging before you buy to see what fits your baby best.
Keep labels and packaging attached until it's time for your baby to actually wear an item, especially if you've bought it weeks in advance, so it can be easily returned if it doesn't fit properly.
And there you go, that's everything you need to know about baby clothing sizes. We hope that our tips make it easier for you to find the best clothes for your little ones. If you have any questions, feel free to let us know in the comments!